The Pasda Committee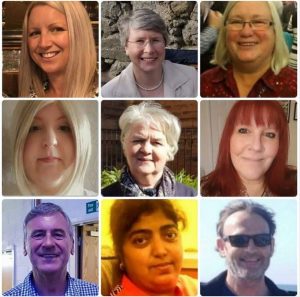 Pasda Committee and Staff.
Top Row L to R Trustees Kelly Hynd, Kirsten Mutch, Alice Foster.
Centre Row L to R  Admin Assistant Pam Duffy, Convenor Susan Chambers , Carer Communication Officer Cath Purdie.
Bottom Row L to R Treasurer Tom Wightman, Varsha Choudhari (Treasurer) and David Langhan.
he current committee of 7 elected members is responsible for compliance with the Office of the Scottish Charity Regulator as we are a registered charity.
The compliance involves preparing a financial statement and filing the annual report for public record  This could include involvement with  Autism Awareness Day, organising conferences, improving communication with our contacts, partnerships with other carer organisations and applications for new funding streams.
If you are interested in being a part of the committee please contact a committee member.